Remedies and Redress to Victims of Sexual Violence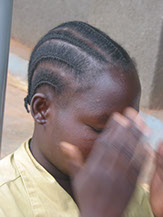 Janet (name changed for confidentiality) was 17 years when she was abducted by the rebels of the Lord Resistance Army in northern Uganda. "I went toward my house, and as soon as I got closer to the door I saw rebels who had encircled my home and guarding their commander who was sleeping inside my house all coming towards me. They said if I try to run they would shot me. I sat down in the mad, crying loud and raising alarm. Two of the rebels stepped on me; other took guards as their commander came from inside my house.
He carried with him the padlock which I always use for locking my house. They hit my knee so that I couldn't run away.
I was sexually abused and severely tortured.
AYINET has provided Janet medical assistance and she has received reconstructive plastic surgery of the mouth. But she is still left with need for multiple surgeries of injuries resulting from sexual abuse. There are many women whom we have identified and profiled already, so many keeps coming and we need funds to treat them.
Thanks to United Nations for supporting her rehabilitation.