Youth Leadership
for Peace and Reconciliation

IF YOU WANT PEACE WORK FOR JUSTICE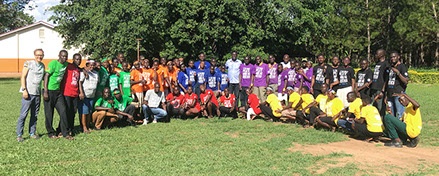 It is not a daily occurrence for one's work to be noticed and appreciated by others. It is an even more rare occurrence to receive such recognition from a global platform with a diverse range of contributors competing for the same recognition.
Be the change you wish to see in the world
With continued support from USAID through Supporting Access to Justice, Fostering Equity and Peace (SAFE), this year 2015, AYINET will continue phase two of the youth program to mobilize and empower youth to become active leaders within their communities, strengthen leadership skills of potential youth leaders, while involving youth in areas of social transformation, peace and justice.
"It is not where you are born, who your parents are or how much money they have; we all should have the opportunity to contribute and grow and succeed."
(US Ambassador Scott H. DeLisi).
US Ambassador Scott H. DeLisi meeting with AYINET staff Jackson Opio and Sarah Powell.
Peace Corps engaged in peacebuilding
AYINET with their Peace Corps Volunteer is moving forward with this initiative with our first implementation of Peace Camp. This week long camp will be held in partnership with Peace Corps Uganda in December 2014 in Lira Town. Peace Camp's main goal is to empower Ugandan youth to become peace-builders in every sense of the word.
Engaging Youth in Understanding Law as a Tool for Human Rights
Model International Criminal Court (MICC) is a simulation of the International Criminal Court, organised by the German organisation, Kreisau-Initiative e.V., in cooperation with the Ugandan nongovernmental organisation, African Youth Initiative Network (AYINET).
AYINET celebrates Nelson Mandela the icon of peace and reconciliation
Nelson Madiba Mandela, a symbol of reconciliation, peace and oneness the world came to know. A visionary and a realist, the one who never gave up hope and always put humanity first. He was never self seeking in the struggle for freedom; in his leadership; and always served a purpose higher than himself. He was relentless in pursuing his goals no matter the odds and obstacles, and always sure of the legitimacy of his actions.He united rather than divided in life and death. He registered in every mind that cared to know that he was a team player, one who treated everybody with dignity as he did himself. A charismatic leader; gifted with a great sense of humor. He died a Nobel Peace Prize winner, the first black President of South Africa. We will remember him as one man who dedicated his life to the struggle for freedom, peace and Justice. His legacy is our future; a future of unity, peace and forgiveness.