Uganda's President Museveni endorses Victor OCHEN and AYINET for Nobel Peace Prize 2015.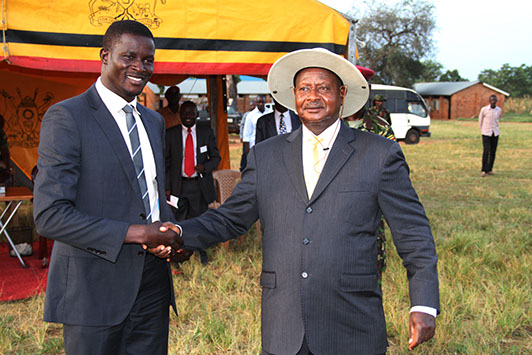 "Peace, the Pillar for Development… "
President Museveni excited the masses while addressing tens of thousands in Alebtong district speaking mostly in Lango, the local language. "Kuc obedo pagi me dongo lobo kede lonyo" ("Peace is a pillar for development and prosperity")
The President congratulated and proudly endorsed Victor OCHEN, Director and Founder of AYINET, the first Ugandan and the youngest African to be nominated for Nobel Peace Prize, 2015. Victor OCHEN and his organization African Youth Initiative Network (AYINET) were jointly nominated for the prestigious award, by the American Friends Service Committee (AFSC).
"Peace has not been easy for Uganda since independence. This has been due to bad politics, religion and tribalism which caused much suffering. Especially the Lord's Resistance Army (LRA) and cattle rustling in North and Eastern Uganda, as well as Allied Democratic Forces (ADF) in Western Uganda. But as you can see, we now have peace all over Uganda. When you love God, you speak the truth; when you speak the truth, you create peace; and when you create peace, development and prosperity comes." said President Museveni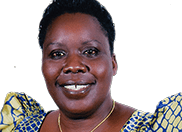 Joining him, Hon. Rebecca Amuge Otengo, (Left)  Minister of State for Northern Uganda Rehabilitation, also congratulated Victor OCHEN and AYINET, appreciating the consistent efforts in supporting the victims of war in Northern Uganda.
"Victor OCHEN  was born in Abia and grew up in IDP camps. But together with his team at AYINET they have been very instrumental in providing medical and psychosocial rehabilitation to thousands of war victims and giving them voices through the Transitional Justice program. To the government of Uganda, AYINET is a key partner under the Peace Recovery and Development Plan (PRDP).
Victor and AYINET's nomination brings hope to the war victims and they stand out as role models for the youth." said Rebecca Otengo
AYINET Welcomes President Museveni's Endorsement
Both Victor OCHEN and AYINET happily welcome President Museveni's endorsement with gratitude. His endorsement is symbolic of the faith and confidence leaders ought to have in young people's potential, as key players in promoting good governance, recovery, peace and development.
"As a succeeding generation, we the youth have the responsibility to enforce a unifying language of peace. We are a generation with different sets of values, to carry forward the dream of our forefathers, we are the generation in waiting". Victor OCHEN
AYINET hopes this endorsement will inspire the youth, especially those still caught up in violent conflict to embrace peace and tolerance even amidst the hardships, and also the leaders to refrain from using the youth as tools for injustice.
President Museveni's significant support follows earlier endorsements of Victor OCHEN and AYINET by high profile personalities like Archbishop Desmond Tutu of South Africa, Ms. Fatou Bensouda the ICC Chief Prosecutor among others, with a host of organisations such as The Martin Luther King Jr Center,TrustAfrica, African Leadership Institute, GAPS, MICC among others.